Youth Exchange → Outbound → Short Term Exchanges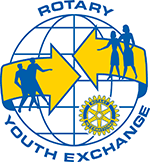 These exchanges vary from several days to several weeks; they often take place when school is not in session and usually do not include an academic program. Short-term exchanges generally involve a homestay experience with a family in the host country, but they can also be organized as international youth camps or tours that bring together students from many countries.
CLICK HERE for the Youth Exchange Handbook
What is Eastern States Student Exchange (ESSEX)?

ESSEX was founded in 1966. To facilitate a smoother functioning program, a number of Rotary Districts in New England and the Middle Atlantic States combined into a consortium called the Eastern States Student Exchange or ESSEX.
The Eastern States Student Exchange Program (ESSEX) organizes both long-term and short-term Rotary student exchanges for 36 Rotary International Districts. ESSEX works with districts in 16 states in the eastern United States, Bermuda and Quebec, Canada, and exchanges with over 30 countries worldwide.
CLICK HERE for the Application
Let's talk about how you can be sure that medicines you purchase online are secure. Discount medicine services allow consumers to gain access to their prescriptions at a fraction of the cost. Of course it isn't all. At present many articles were published about Buy generic levirta online. How you can read more information about "http://herballife.biz/levitra-sale"? A medicinal review about "levitra for sale" show that men's most common sexual problem is ED. Occasionally another disease will lead to impotence. So if you are experiencing erectile problems, it is significant to see a certified physician forthwith for a complete physical testing. Remember that buying ED remedies from an unknown company can be illegal.