About
Next Generations → About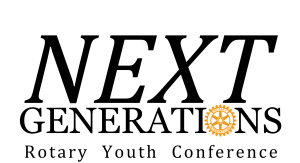 Each year, high school students from all across the district meet their peers, in order to have dialogue about important issues. The diverse backgrounds of students from urban to rural areas provides participants with a variety of perspectives on topics.  The workshops change annually based on student experiences and needs. The cost is $40 to the sponsor. Checks should be made payable to The Rotary Foundation District 7980. Please have clubs include your name and "NG Participant" on the memo line. Checks should be brought the day of the conference.
Next Generations Conference for 2018:
February 24th (February 23th*Facilitator overnight*)
** Check in/ Registration TBA
** The conference ends TBA
*** Location: TBA
Application
Applications available HERE !  The Application is due February 10, 2018
Join our 
Facebook event page
 to get more updates from our 2016 conference.  
Attention Rotarians & Parents/ Guardians:  There will be a special session for Rotarians and Parents beginning at 3:30pm on the conference date.  In this session, you will learn about what students participated in and the purpose of our conference.
Leadership Positions
Student Directors: Selected by Rotary's Next Generations Chairs & the previous conference's Student Directors; Plan, execute, and facilitate the leaders and conference agenda and are overseen by the Next Generations Chairs.
Mentors: Selected by Next Generations Chairs; Take part in planning and assisting student directors and facilitators. They are past Facilitators of the Next Generations Conference and are currently attending a local college/university.
Student Facilitators: Selected by Student Directors and approved by Next Generations Chairs; Take part in planning and assisting student directors.  They are the direct leaders of the workshops.
Conference Chairs (2017 – 2018):

      Carly Wolfe ( Chair)    Kassandra Fruin (Co-Chair)    Dave Ullman (Rotarian Liaison)
   James Charlot (Director of Finances)     Dylan Molster:  (           )           Kristen Foster: (               )
Student Directors (2016 – 2017):
Joseph Coss     Joyce Lin    Indira Greif
Tentative Dates For Leadership Meetings: Meetings and times are subject to change based upon venue ability.
October 7th: TBD
December 9th: TBD
February 3rd: TBD
February 23rd: Overnight
Progression